Weekly Timesheet Template.xlsx
DOWNLOAD

Weekly Timesheet Template.doc
DOWNLOAD

Weekly Timesheet Template.pdf
DOWNLOAD

Weekly Timesheet Template Sheet
DOWNLOAD
By downloading this file you agree to terms & conditions
Tired of using paper timesheets?
Try TSheets time tracking free for 14 days!
Your time is valuable—don't waste it.
Free Timesheet Template—Monthly, Fortnightly, Weekly and Daily
Download this free, easy-to-use timesheet to keep track of employee hours, overtime and annual leave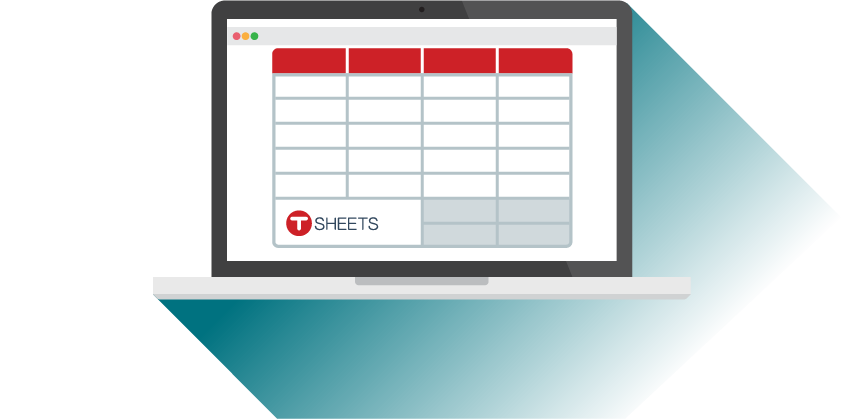 Download your preferred format
How to Use the Timesheet Template
This simple timesheet template was designed to help you track time and manage annual leave allowances for multiple employees.* Download this printable template and start recording your employees' monthly, fortnightly, weekly and daily hours. Available in PDF, Excel (XLS), Word (DOC) and Google Sheet formats, this free template also includes columns for breaks and leave so you can keep track of all the pertinent information in one place.
If you're ready to put manual timesheets to bed, TSheets by QuickBooks has an online timesheet solution you can try free for 14 days. TSheets is accurate, automated timesheets that can help you comply with Fair Work requirements.
Step 1: Fill in the employee's name, their manager's name, your company's name and the pay period start and end dates.
Step 2: Employees can fill in the day and date, their job/shift, their job/shift code, their time in/out (including breaks) and any remaining overtime or leave hours.
Step 3: When it's time to hand in the timesheet, employees sign the top of the form. Managers can then input the employee's rate of pay and overtime rates to calculate the employee's total hours and pay for payroll.
Tired of manual time entry?
Try TSheets and start saving on gross payroll costs!
How Government Regulations Impact Time Tracking
Before you begin using our free, simple timesheet template, it's important to consider recent government regulations. Take, for example, the Fair Work Awards under the Fair Work Act 2009. The Fair Work Act is overseen by the Fair Work Commission (FWC) and Fair Work Ombudsman (FWO). In the 2016-17 period, FWO initiated 55 civil penalty litigations where 50 cases were decided. Record-keeping was the one of the top contraventions threading throughout.
How Regulations Differ by State and Territory
While Australia reigns supreme as the country with the highest minimum wage, the Fair Work award wages make it one of the most complex systems to process payroll in. Geography adds another layer of consideration in deciding what rules apply.
How Can This Template Help?
Employers must keep employee time and wage records for at least seven years. This downloadable, printable, free timesheet template can help keep the records accessible to a Fair Work Inspector, while helping businesses to stay on top of their record-keeping and payslip obligations under the Fair Work Act.
*Please refer to a legal advisor specialising in Fair Work to find out which workplace system your business falls under and how that impacts your business. TSheets does not recommend individual practices, is not claiming to ensure you meet all requirements of such regulations and leaves administrative decisions to the discretion of your organisation.
Ready to automate employee timesheets, TSheets can save you time and money—free for 14 days!