Track Time from Any Location, Using Any Device, in Real-Time
TSheets' mobile time tracking will keep track of employees who work remotely or switch jobs or locations regularly. Using the devices they already have, your employees can track time quickly and easily. Employees clock in and out on their desktop, laptop or mobile phone – using the iPhone or Android apps. Even when they're offline or don't have reception, TSheets accurately tracks time and automatically syncs when they have reception again.
Online Time Tracking with GPS
Easily track time and location for your mobile employees.
Looking for easy-to-use time tracking with GPS for your mobile or remote employees? Using TSheets' online time tracking for iPhone, Android GPS location points are automatically attached to the individual employee's timesheet when they clock in or out, change job codes and more. Our GPS tracking even works on your Windows 8 phone.
Time Entry - Manual and Custom
It's all tracked down to the second.
Regardless of how your business likes to track and manage employee time, TSheets has a solution. Employees can clock in and out in real-time, enter their time manually, and allocate time to custom fields, projects or tasks. Business insight has never been greater thanks to TSheets' detailed online time tracking, multilevel job coding and down-to-the-second time stamping.
Tracking Employee Leave
An easy way to manage sick leave, annual leave and paid time off (PTO).
Everyone needs time off for sick leave, carer's leave or annual leave. TSheets tracks employee hours and works to manage employees' time off.
Learn more about managing employee time.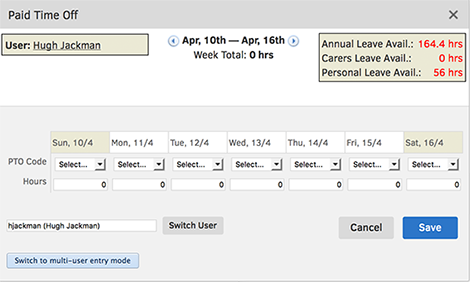 Employee Alerts and Reminders
It's easy to remind employees to clock in and out.
TSheets reminds your employees to clock in and out with automatic reminders. Your business will experience an increase in employee time tracking compliance of up to 99%.
Employee Scheduling
Faster. Easier. More convenient.
It's time to retire Excel and your whiteboard for scheduling that's easy to use and easy to love for employees and managers alike. Whether you schedule your employees by job or by shift, TSheets Scheduling works hand in hand with time tracking. Create and edit a roster in minutes, see who's working in real time (so you know who's available to take a job), notify employees of schedule changes and assignments with email and phone notifications, and get alerts if employees haven't clocked into a job or shift as scheduled.
Learn More About TSheets Employee Scheduling.