Time Clock Kiosk: Simple Employee Punch Clock Software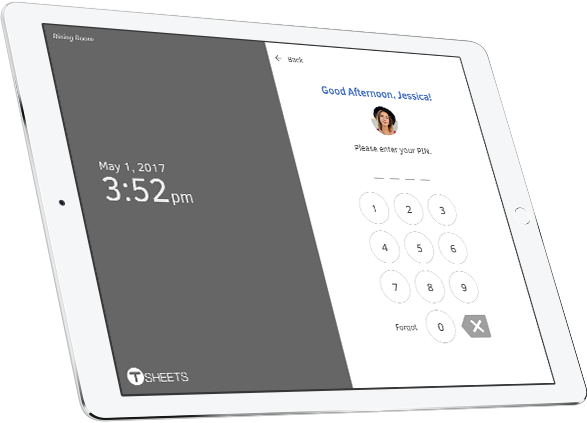 A fast and easy way for employees to clock in, on-site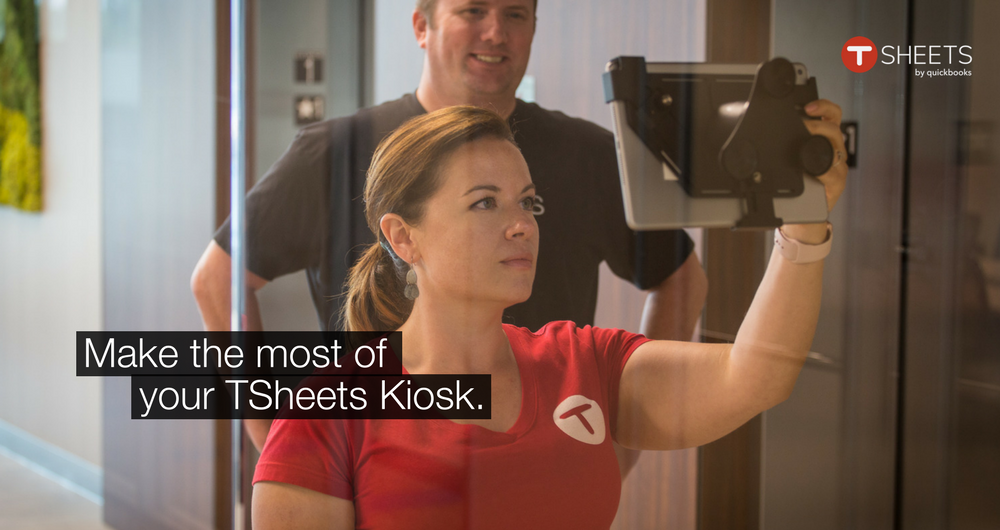 A time clock kiosk from TSheets by QuickBooks is the ideal solution for businesses with employees clocking in at the same location. This easy-to-use, cost-effective and portable punch clock is an alternative to traditional punch clocks. And it works on any computer or tablet with an internet connection.
And forget complicated usernames or passwords. Employees use a simple four-digit PIN to clock in and out and take breaks. Time clocks are optimised for speed but include all the timesheet features you need.
A punch clock all your employees can use. Ideal for crews on the job site or in the warehouse.
On the Clock and Ready to Work in Seconds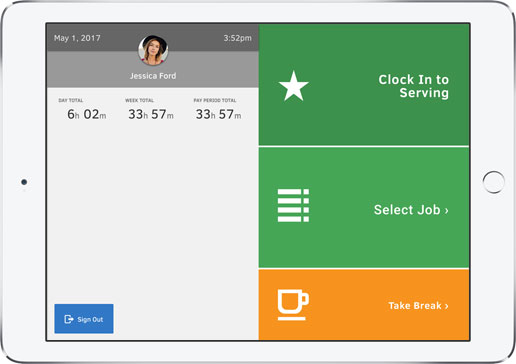 Using a TSheets online punch clock, employees can clock in and out on the same device, using a simple four-digit PIN. There's no need to scroll through endless job codes either. Employees can quickly and easily clock in to the last job code they tracked time for. Within seconds, they're on the clock and ready to work!
No PIN? No worries! Employees can reset forgotten PINs on their own, without wasting admin time.
Need more than one way to track time? We've got five. Find the one that works for your business.
"We had a bad storm on Sunday—lost electricity and the festival's general Wi-Fi—but with cellular data coverage, the iPads and TSheets stayed STRONG! The personnel were able to check out without any problems! Yesterday was our production down day—first day off after working 10 straight days—and my office was able to close!"
—New Orleans Jazz Festival

Know Who Clocked in With Photo Capture and Facial Recognition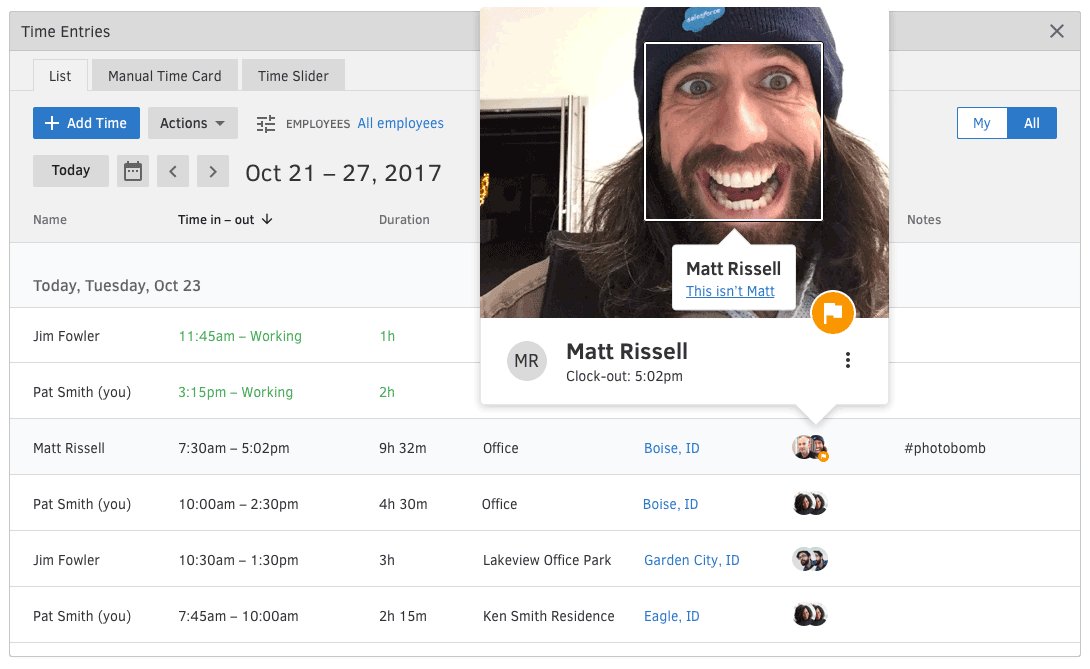 Want to make sure the right employees are clocking in and out, even when you're not there? Enable photo capture on your time clock kiosk and TSheets will automatically snap a photo of the employee upon clocking in and out.
For an added layer of security, the TSheets facial recognition software will flag employee photos that don't match up. A biometric alternative to fingerprint scanners that can malfunction over time, our facial recognition feature requires no additional hardware or complicated setup.
Submit Time via Time Clock Kiosk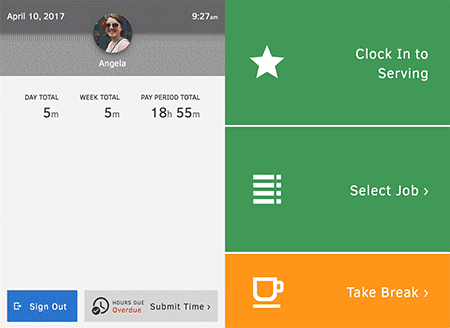 No more chasing down employees to collect their timesheets. Whether your employees need to submit their time daily or once per pay run, they can easily review and submit time directly from the time clock. The best part is that the time clock reminds employees when their hours are due based on the pay run settings in your TSheets account.
An Easy Alternative to the ol' Bundy
TSheets Time Clock Kiosk comes with all the timesheet capabilities you already know and love! Employees can still quickly and easily track time against multiple projects or clients, take a break, clock out for the day, add notes and even submit time for payroll—all directly from the kiosk.
Safety and accountability, as one business owner learned, can't be delivered by the average time clock.
Big Benefits for Your Business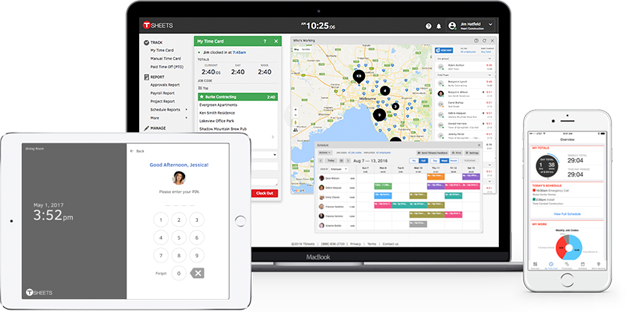 Time Clock Kiosk is a great solution for businesses with employees who work in a central location—like manufacturing plants, warehouses, construction sites or retail stores.
Do you have some employees on site while others are on the go? Easy. With TSheets, you get all-inclusive, flexible timesheets that can be used in multiple locations, on mobile devices or on the web. No matter where or how you need to track time, TSheets is the solution.
New to time tracking? Get started with TSheets by QuickBooks, free for 14 days!