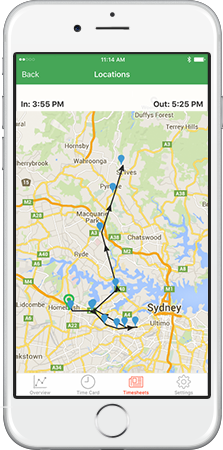 Time Tracking with GPS
For safer job sites and faster response times.
When your team clocks in from the TSheets iPhone app, you can see all their GPS locations on the Who's Working map in your TSheets account—showing you exactly who's on the clock and where they are at any point of the day. No need for additional GPS services. TSheets has got you covered.
The GPS data is updated regularly throughout the day and again whenever employees change job codes, add notes, or clock out. You've got an accurate picture of everyone's day whenever they're on the clock—improving accountability, making it easier to find people in an emergency, and cutting down on wasted journeys. And the moment they clock out, GPS tracking is immediately turned off.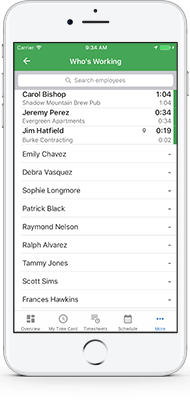 Power to You
See who's working and add new jobs on the go.
The TSheets app for iPhone gives you a real-time window on your workforce anytime you need it. With a tap of your screen you can see exactly who's working today and even which projects they are working on—all from the field.
Want to add a job or a new customer while you're on the go? Need to check a timesheet or annual leave request before you get back to the office? No problem! You can do it instantly from your TSheets iPhone app and get on with the real job of running your business.
Yes, you can track your time from 11,000 metres!

Track Time Your Way
Switch to manual entry to create your own timesheets.
TSheets' iPhone app is all about flexibility, which means you can track time your way. If you forget to clock in or out one day and still need a record of your hours, it's easy to add them yourself by creating a new timesheet.
Managers can easily see when employees have entered their time manually instead of clocking in and out when they start and finish their day. They can also see any notes or changes an employee has made to their time card—and as always everything is synced back to your main TSheets account.
Try it FREE Today!
No credit card required. Cancel anytime.