Crew Functionality for Timesheets on the Job Site
Crew Function Saves the Day for Crew Managers
Put the timesheet power in the crew manager's hands
Are you or your crew supervisors tired of handling illegible or inaccurate employee timesheets? Tracking time, switching employees to different projects, keeping track of who's on break, who left early and more? Welcome to the easy life of the TSheets timesheet app and its Crew function, the only online timesheet designed with the crew manager, the crew and the smartphone user in mind.
Whether yours is a construction crew, a flight crew or a fleet of food trucks, using an online timesheet means you can easily group employees by crew, efficiently move a crew to a different project or job code and clock in/out an individual or an entire crew at once. Both you and your office administrators can easily see which crew members are currently working and where, plus the crew's day and task totals and more, with only a few taps on a smartphone or a quick glance at the TSheets web dashboard.

GPS Power on the Job Site
Knowing where your crews and employees are improves payroll, labour costing
Real-time GPS points are attached to employee timesheets when supervisors clock in their crews and while employees are on the clock. When crews and employees clock out, GPS tracking shuts off. This type of communication between the office and the employees translates to reduced overtime and penalty rates, makes for more accurate labour costing and increases workplace productivity.
Employee Permissions Are Yours to Decide
Some have it. Others don't.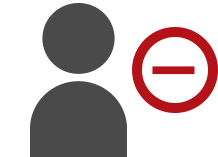 As always with the TSheets app, we protect the employee and the employer. The Crew function is designed for supervisors or managers and cannot be used without permission. Permissions are activated through your company admin's TSheets web dashboard and can be customised for each supervisor or employee. These safety measures guarantee that only crew members with specific permission to manage others can clock others in and out—and only managers can create and edit manual timesheets for their crews.
Offline Timesheets for Crews
Accurate employee timesheets even when you're out of service
The Crew function is ready to go wherever work may lead—regardless of phone service. Crews and crew managers can clock in, clock out, change job codes and add notes using the Crew function of the TSheets app, and the timesheet data will be stored offline. Once back in service, crew managers can sync time data for the entire crew back into TSheets.
The world awaits. Fortunately, with TSheets, crews have an employee time clock that works online and offline.
A Crew Function Android Users Love
Accurate employee timesheets even when you're out of service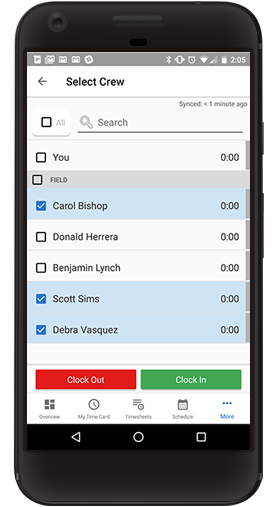 TSheets takes timesheets to the next level with timesheets for Android users, delivering individual and crew timesheets all in one place. Using the TSheets Android app, a supervisor can clock in or out an entire crew (or individuals, as needed), view crews throughout the day, review day and task totals by project or location and more.
It's fast, easy and accurate timesheets for busy crews, supervisors and business owners—all using one simple app on their Android.

Manage Your Crew From Your iPhone
Clock employees in, switch job codes and clock employees out
For crew managers who are tired of collecting paper timesheets or overseeing single-location time clocks, TSheets for iPhone saves the day.
Crew managers can easily approve timesheets for entire crews, delivering accurate-to-the-second time, GPS location points and more with a few simple taps on their iPhone. Managers can even view employee and crew hours for the day, switch employees to different projects for accurate labour costing and add project notes as needed.

Customer Love
"I don't have to worry about chasing down lost timesheets or shuffling piles of paper on my desk."
—Annie Newton, Tatura Bookkeeping Service
"The best thing about TSheets for me is how easy it is to use, and that's especially important for the employees. We customised a few things and they all took to it well."
—Dan Power, A1 Appliance
Start your TSheets 14-day trial