Replace Paper Timesheets for Good
Logistics can be daunting for businesses with a mobile or seasonal workforce spread across multiple locations throughout the working day. Employee timesheets can be inaccurate, hard to read or can simply be lost.
From mobile apps with GPS tracking while employees are on the clock, to real-time views of who's working and what they're working on, and employee reminders with overtime alerts, TSheets is the new favourite power tool for tradies and small businesses everywhere.
TSheets' mobile timesheet app simplifies and streamlines tedious tasks like payroll, invoicing and labour costing, saving you hours and hours of manual time tracking and reporting, and an average of 2-8% on your payroll costs.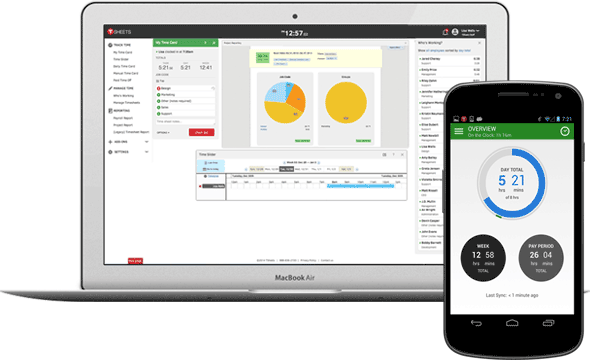 Mobile Time Tracking Made Easy
"Easy system that accurately logs hours to jobs. Really helpful for our construction company as our employees often fly interstate."
Brendan, Operations Coordinator, Expocentric
Say hello to the employee time tracking game changer. Any time. Any place. TSheets has your time covered. Working in the office? Clock in with a computer, laptop or tablet. Mobile? Your time is still tracked! With iPhone and Android mobile apps, Crew app—all with GPS tracking—you can clock in and get to work with just the click of a button. Effortlessly switch jobs, locations and tasks as well. It's time tracking made simple. It's time tracking made for employees.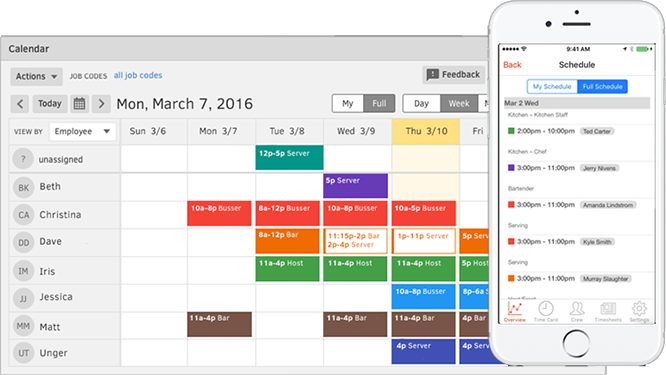 Employee Scheduling and Time Tracking: Better Together
Creating a roster is easy with TSheets Scheduling on your time clock. Everything is right there at your fingertips—from Who's Working today to who's booked time off. And the best thing? Your team always has the latest schedule with them wherever they go. Even with last-minute changes.
Always on the move? Everyone's connected. Wondering if Chloe started her shift on time today? TSheets has the answer. Urgent jobs coming in? Respond with a click of your mouse. Still using email, Excel and that old whiteboard? It's time to save yourself a heap of hassle and get on with running your business.
Shift Scheduling
|
Job Scheduling
|
Your Schedule on the Go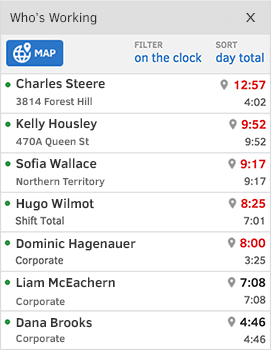 Who's Working? Now You Know.
Ever feel like you're needed in a million places at once? Well you can officially retire your jetpack because Who's Working will take you wherever you need to go. Find out instantly who's on the clock, how long they've been at work, and where you can find them. Yes, that's right. Where you can find them. When your employees clock in from a smartphone, your TSheets dashboard has all their locations on one map. Add this to the power of TSheets Scheduling and your business will be surfing a new wave. Ready to drop in?
Learn More about Who's Working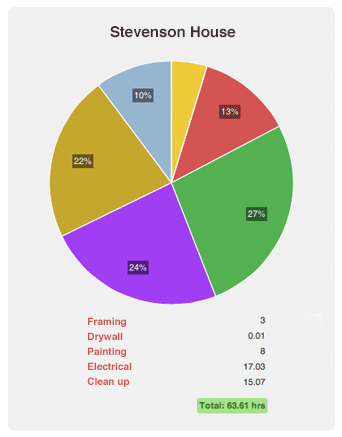 Payroll, Labour Costing and Invoicing Simplified
"I just processed our payroll using TSheets and I have to say, I'M IMPRESSED! Our employees tell me how easy it is to use and there's no more copying/emailing employee timesheets as the employees can access them through TSheets. I can't wait for next week's payrun, it will be a breeze!"
Annie Newton, Tatura Bookkeeping Service PTY LTD
Cut down tedious hours spent on payroll each week to mere minutes. Easily approve timesheets and get detailed and real-time reports of labour expenses including regular time, overtime, holiday and leave. Get instant access to labour information such as project estimates, invoicing, labour costing, and more. With TSheets, you can spend less time on payroll and more time making a difference in your business.
Seamless Integrations
"Running payroll with the TSheets and Xero integration was flawless"
Bob Rupholdt, Cooreman Properties
Say goodbye to payroll errors and manual, duplicate time entry. TSheets time tracking software integrates with payroll and accounting software including Xero, QuickBooks Online, Reckon, PayChex, Sage and more. Export your detailed and accurate timesheets with one simple click and get on with your day.
"Last week was our first week of using TSheets and I am proud to tell you it has helped increase our billings in excess of 20%. This means we have made an additional $1,500 in one week which if extrapolated over a year is an extra $78,000.

An extra $78,000 without doing anything differently, wow the best decision we have ever made."
Graham Meredith, Director, Book Us Bookkeeping, Mittagong NSW